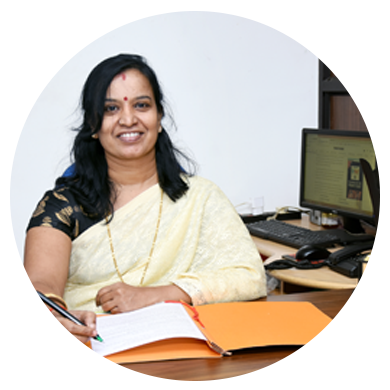 Principal
Ms. Parvathi.S
From Principal's Desk
"The beautiful thing about learning is that no one can take it away from you" – B. B. King
Sakthi Vinayakar Hindu Vidyalaya CBSE Senior Secondary School, Thoothukudi, since its inception for four decades has earned its own niche and believes in the individual success and growth of every student. Carrying this legacy forward, it is my pleasure and honor to introduce myself as the Principal of this esteemed institution. I am extremely honoured and pleased to join this school community of learners, where everyone everyday learns including myself, our staff and parents.
Education is not just a process of giving knowledge for a future job but a lifelong process which creates an understanding of moral and ethical values to guide one's life in a right path. As a parent, you want the best for your child and we are proud to be working with you to ensure that they are given the right knowledge to face the future challenges. Parents, students and the school authorities are a team and we have to complement each other's efforts.
At SVHV, we focus on complete development of our students by involving them in both scholastic & co-scholastic activities as suggested by CBSE. I am sure this will help our children to realize, understand & explore their talents. In order to do this, the parents and the school authorities must work together to inculcate certain values in the students. "Sound body has a Sound Mind." Let us allow our children to develop physically & mentally. Children learn alot of values when they are involved in Sports & Games. Some of these life skills & values cannot be taught in the classroom or at home. SVHV provides enough opportunities for the children to participate in Sports & games.
The school is striving hard to make the best possible efforts to inculcate strong values combining with academics and extra-curricular activities in the children. Converting every individual into a self-reliant and independent citizen, the school provides an amalgam of scholastic and co-scholastic activities.
At SVHV, our approaches to learning is child centric, encouraging Activity based learning and inculcating a scientific temper and a spirit of free enquiry. In our curriculum the student is the primary focus and each child is involved in the learning process. We are constantly improving our teaching methodology so that it turns learning into combination of classroom study, research and scientific discovery.
We, at SVHV are very grateful to our parents for their sincere involvement in the school. Without their single minded co-operation between the school and home we cannot offer the holistic education towards which we are striving.
During this unprecedented time, SVHV has earned all the support and cooperation from each and every parent, guardian, student, faculty member at every step and I look forward to the same collaboration and support so that we embrace all the challenges with confidence, steadfastness and fortitude.
"Education is not the filling of a pail, but the lighting of a fire." ― W.B. Yeats.