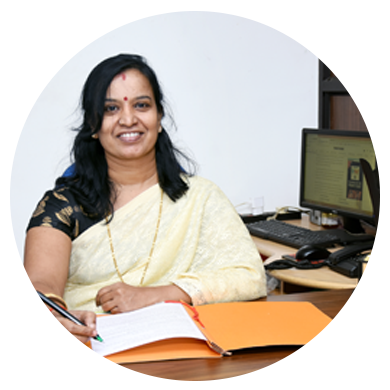 Principal
Ms. Esakkiammal. S
From Principal's Desk
Dr. Radhakrishnan's picturesque description of a teacher: "A good teacher must know how to arouse the interest of the pupil in the field of study for which he is responsible, he must himself be a master in the field and be in touch with the developments in his subjects. He must be a fellow traveller in the exciting pursuit of knowledge". Every teacher here is expected to inspire students by his / her subject knowledge, motivation, devotion and dedication.
Education is not mere cramming up of things. CBSE insists learning through comprehending. Comprehension leads to questions. Only a questioning mind can explore the world. We, at Sakthi Vinayakar Hindu Vidyalaya believe in student centric education. Therefore, the school has now taken a new shape with a lot of changes realising that "Changes are inevitable', but still rooted strongly in Indian culture and tradition. Values are imbibed through prayer song, mantras, festivals and celebrations. As per the need of the hour, activity oriented learning is insisted – Games, clubs, competitions and events form part of curriculum. Sports is equally given importance. Students are stress free and love to learn here.
In ancient India, education was through 'Gurukulam'. By undergoing hardships, carrying out day to day chores, serving the Guru and learning all arts, students turned out to be business men, soldiers, ministers and Kings. We too intend to provide such education though practical knowledge, getting the young minds ready to face the challenges, cross all obstacles and go ahead with smiling faces. Over - all personality development is aimed at in Sakthi Vinayakar Hindu Vidyalaya.
We follow the well- known saying: "Give respect and take respect ". The school campus welcomes students and parents with a smile. Our army of staff look into their needs, hear their grievances and understand their expectations. We are open to suggestions and closely united to put in sincere efforts to raise the standard of our school and reach the zenith.
I am proud to be a part of this reputed Institution and glad to serve in my native place. The Management is keen in providing REAL education to the students in and around Thoothukudi and in near future keep the gates open for students from all over India. We at Sakthi Vinayakar Hindu Vidyalaya will continue to render TRUE SERVICE in the field of education.