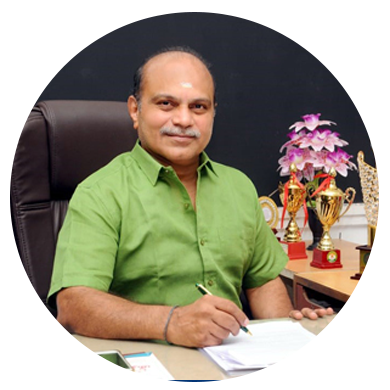 Correspondent
Thiru G.Vivekanandan
Message by the Correspondent
Sakthi Vinayakar Hindu Vidyalaya, founded by my father – Vivegam.V.Gurusamy holds the proud legacy of producing content, successful and socially responsible citizens for over 37 years.
Our aim is to create a positive learning environment and inspire children to succeed, where all staff, pupil, parents and governors play a cumulative role through shared responsibility and involvement.
We offer innovative and inspirational curriculum, bundled with challenges and rich in opportunities, laid on a foundation of morality and ethics.
Every child is a precious individual with unique composition of skills and interests and we strive to provide the ideal nurture bed for them to discover and develop the expertise.
We ensure in holistic development of children, instilling confidence to make intellectual choices and shaping them as compassionate human beings.
We are extremely proud of our multi-cultural composition and encourage members of different faith and religion in sharing their knowledge to enhance learning within classes.
We promote mutual respect for all members of our school community which includes being respectful of everyone and of everything.
The glory of this institution is sung by the leaders it has produced, lives it has transformed and impact it has created in this society.
Our commitment to produce smart future-ready leaders will continue to evolve in precision and focus, with advancements in technology and demands of the society.
The faith bestowed on this institution with pledge of commitment from its stakeholders will behold the hopes, dreams and vision of this family.
Vivekanandan Gurusamy, M.B.A.,